This performance will take place on the Tea Lawn at the back of Lauderdale House. 
If you would like to sit together, please book together, as this allows us to assign each booking a socially distanced space.
Chairs will not be provided so please bring either a picnic blanket or a chair to make yourself comfortable. Audience members with chairs will be seated behind those on the ground to make sure that everyone has a good view. If you are booking as a group, the whole group will need to be on chairs or on blankets, rather than a mixture of the two.
We have a limited number of picnic tables and benches (see map below) available as group tickets – book these early to avoid disappointment. 
If you have a disability or any special requirements please get in touch with us so that we can best accommodate you.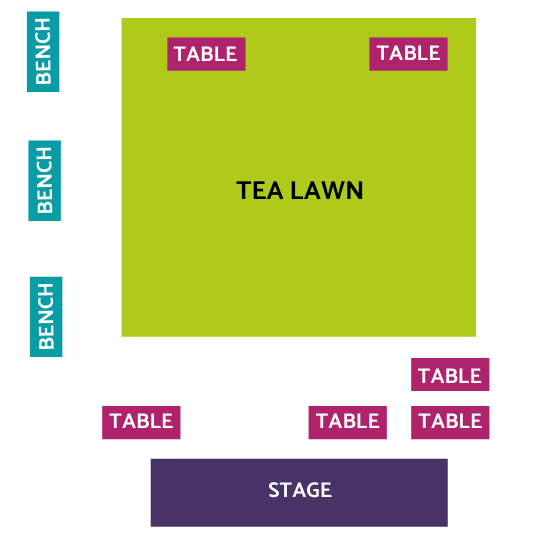 Weather
The performance will continue regardless of the weather unless unsafe. Please plan for all eventualities and remember to bring a waterproof layer and a warm jumper. We prefer waterproofs to umbrellas because umbrellas can obstruct views. Don't forget that if you are on a blanket the ground may be wet so make sure you have a blanket with a waterproof side or bring aplastic sheet. There are no refunds for shows cancelled due to the weather.
Food and Drink
The cafe/bar will be open selling light snacks and drinks before the performance starts and during the interval.
You are also welcome to bring your own picnic to enjoy on the Tea Lawn as you watch the performance. 
COVID-19 precautions
Although the government has lifted many of the requirements around COVID-19 isolation rules, we are aware that many of our visitors are vulnerable and we want everyone to feel safe and comfortable. As such, we are continuing to provide hand sanitiser at our entrances maintaining our reduced capacity of 80%. As audience members, we ask that you do not attend if you are showing symptoms or are testing positive, and that you wear a face covering if possible. If you have any concerns, please contact us on 020 8348 8716 and we will do our best to accommodate you.